Blog
Types Of Lawn Mowers | Types of Tractors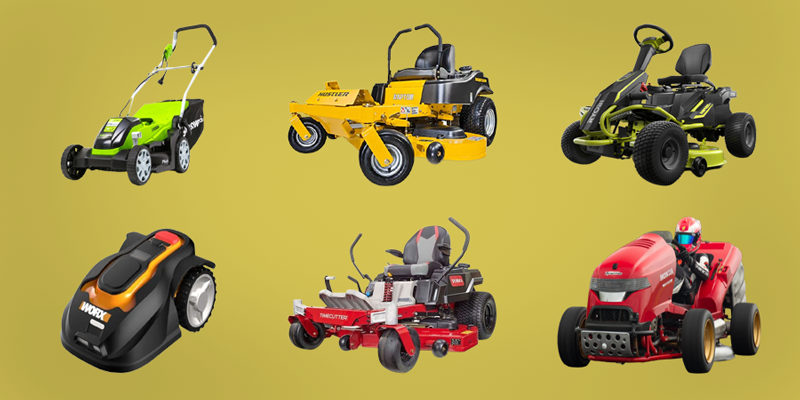 Have you ever dreamed of having a green and lush-looking garden at the back of your yard where you can spend some moments of peace? A lawn is considered the biggest area of any garden, which means it needs care and proper maintenance for the desired look.  All you need for a good-looking and smooth lawn is no fancy tools; it is just a good lawn mower that helps accurately mow the lawn. We are now trapped among too many options available in the market with more n more brands manufacturing with the label to provide their best.
A good lawn mower can be difficult to grab as various types of mowers are available. No matter what, a lawn maintenance enthusiast will always feel as overwhelmed as shopping for a mower. The available types of lawnmowers have created a huge confusion among buyers, which has left behind with only option to understand the types of mowers. We've added here enough information about many of the mower types to make it easier for you to detect which one to choose.
What Are Different Types of Lawn Mowers
We've mentioned every possible detail about the types of lawnmowers we've added in this post to let you make a better decision.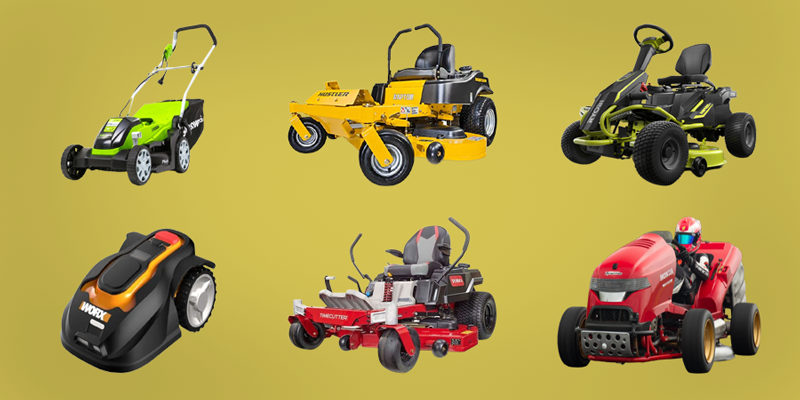 Rotary Lawn Mowers:
These are the most typical kinds of walking mowers you'll come across. Like a food processor or blender, they have a single blade that rotates at high speed in a horizontal motion and mows the grass when it comes into contact. These lawnmowers operate best on medium to long grass, so you may go longer between mowing sessions without experiencing any negative consequences. A rotary mower produces a less precise cut than a cylinder mower.
Because of the fast rotational speed, it tends to contact and mow the grass blades, cutting them up in the event of a collision, resulting in a less accurate and uneven cut than a good reel mower. However, most people are unlikely to detect the difference in mowing, especially on a typical lawn with its slopes, bumps, and color and thickness variations. On the other hand, a well-kept lawn can tell the difference between the two cuts, with the cylinder mower providing the better cut.
Mulching Mowers:
Mulch mowers use mulching knives to chop the grass into fine fragments, which are then returned to your lawn as a natural fertilizer. A mulching mower increases your lawn's health while requiring no more time or money. A mulching mower also reduces the time it takes to clean grass from a collecting mower. Consider a riding lawn mower if your lawn is larger than an acre.
Self-Propelled Mowers:
Self-propelled lawn mowers are suitable for larger gardens, up to an acre in size, because they are self-propelled, which reduces lawnmower fatigue. To regulate their path, the user walks behind the self-propelled lawnmower. Depending on your garden's needs, self-propelled lawnmowers come with front-wheel drive or rear-wheel drive.
Front-wheel drive controls are good for small farms with many obstacles since the front wheels can quickly turn 180 degrees. Due to their grip and improved steering control, rear-wheel drive lawnmowers are ideal for slopes, but they can be difficult to maneuver in tight corners. Lawnmowers with rear-wheel drive are excellent for open regions with steep hills.
Lawn Tractors:
Most people are familiar with riding lawnmowers, and many of us imagine these front engines when we think of riding lawnmowers. With a deck width of 42 to 54 inches, they are a good choice as mowers for large lawns. Divide the width of the mower deck by 12 to get the maximum size of grass it can handle, which is an excellent approach to figure out what size riding lawn mower you need. For example, a 42-inch-wide deck is suited for lawns up to 4 acres.
Riding lawnmowers have engines ranging from 18 to 25 horsepower, with single-cylinder versions at the basic level and advanced ones with two-cylinder engines. A lever-operated gearbox is standard for riding lawnmowers; however, upgraded models can include a sleeplessly variable gearbox, a pulley-driven automatic gearbox controlled by a gear lever.
Rear Engine Riding Mower:
These riding lawn mowers are ideal for medium-sized lawns that are too small for a riding lawnmower but too large for a walk-behind lawnmower to mow easily. The engine is situated at the back of the machine beneath the driver's seat, and the mower is under the driver's seat on these mowers, as the name implies. They are normally driven by a gear lever that controls an infinitely variable transmission. They have single-cylinder engines ranging from 344 to 38cc and produce between 10 and 11 horsepower.
Rear-engine lawns typically have tires between 30 and 33 inches in diameter, making them ideal for lawns with a total area of fewer than 2.5 acres. A lawn of this size would wear down the mower quickly during the season, necessitating regular maintenance, but the back mower would take care of it.
Cylinder Mowers:
Cylinder mowers, sometimes known as cylinder mowers, have vertically revolving cylindrical blades that cut against a fixed blade on the front of the lawnmower. They capture the grass between the knives and cut it with a similar effect to scissors. On a cylinder mower, the number of vertical knives can range from three to twelve, with a higher number of knives usually indicating a more precise cut.
They're made to be used on flat lawns and aren't particularly durable on uneven or rugged surfaces. If you want to attain that look, they give a great cut that is especially effective for generating defined stripes on a lawn. Because they don't tolerate coarse grass well, they're excellent for soft grasslands.
Push Mower:
Push mowers require the user to manually push the equipment across the grass, as the name implies. The engine spins the blades, but all you have to do is move the wheel. These lawnmowers are popular since they are typically the cheapest and are light and simple to operate. A push mower has good maneuverability, allowing the driver to direct the mower precisely where he wants it, around obstacles and corners, and even backward. When you need to load the mower onto a trailer, vehicle or carry it upside down, its small weight comes in useful.
These lawnmowers necessitate some physical exertion, which is beneficial if you want to get some extra exercise, but not for those with health issues or who do not want to sweat. You should mention that push mowers are excellent for flat lawns, as pushing the mower up a slope can be highly effort-intensive, similar to chasing a hill! Due to their energetic nature, they are great for small gardens and are probably the easiest sort of lawn mower to purchase.
Hover Lawn Mower:
These lawnmowers sit on an air cushion and float slightly above the ground. They may be easily carried over the grass due to less touch with the ground and lower friction. They can move in any direction, including sideways, making them ideal for gardens with unique forms or maneuvering around barriers like planting pots, trees, and other garden objects. They also give the user greater control over the lawn's edges.
Hover mowers are also quite inexpensive, which contributes to their widespread popularity. Although these lawnmowers have their benefits, they also have their drawbacks. The most significant disadvantage of floating mowers is their lack of performance, which concerns anyone with a larger lawn. They're usually powered by electricity and are great for tiny lawns.
What To Consider The Most When Buying A Lawnmower?
The following factors would help you better understand how to grab a good option.
Lawn Size:
Different lawn mowers are better for different-sized lawns or gardens. To buy a lawnmower, you don't need to know the exact size of your lawn but having an idea of the margin helps. Consider how big your lawn is, whether it's an acre or more, and whether it's flat, sloping, or mountainous. Before purchasing a corded lawn mower for a small yard, measure the distance to the nearest power source. Whether you need an electric or gasoline lawnmower or a push or ride mower depends on the size of your grass. You want to pick the ideal model or kind for your lawn's size.
Brand:
Find out where the service center for the brands you wish to buy is situated by researching them. We may be considering a great lawnmower, only to realize that the nearest service center is a long distance away. Lawnmower brands differ in quality, value for money, and durability. Greenworks is a quality brand that is less expensive than most others. Ego and Worx are two other good brands. However, after studying, we discovered that Honda makes the best lawn.
Conclusion:
We hope we've succeeded in explaining the different types of lawnmowers, which will help you to choose the appropriate option according to your need. You can grab more information on how to maintain your lawn on the internet today.