Blog
How To Make a Racing Lawn Mower
Rev Your Engines: A Step-by-Step Guide on Building Your Own Racing Lawn Mower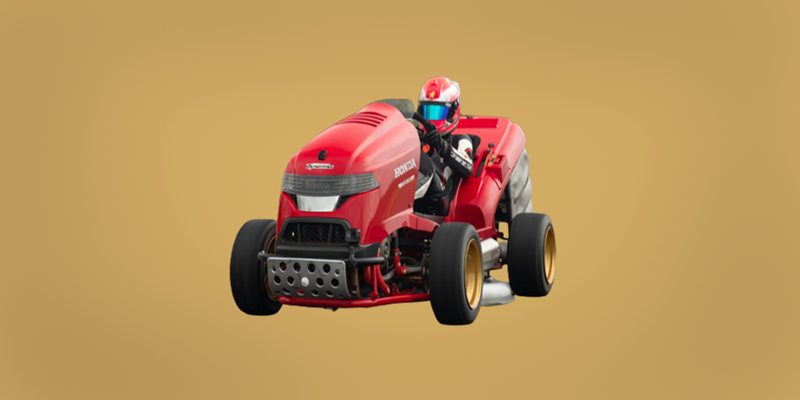 Do you also think the only real-time sport is auto racing and all others are just a game? Many of us once dreamed of building or buying our racing car, but all that ends up is realizing that most of us can't afford it. Right? Does that mean you should end up dreaming of having a racing car? No! what if we move ahead and transform our lawnmower into a racing lawnmower? Excited? Lawn Mower is one of the essential tools for grass cutting.
Lawn mowing is becoming a more popular pastime. It was made by people who tinkered with off-the-shelf equipment, made their parts, and put their creations to the test with others for fun. Manufacturers have joined the mix as the sport has grown in popularity, and organized racing tournaments have been formed with corporate support. Today in this post or guide, we've mentioned the best possible procedure relating to how to make a racing lawnmower. Creating a racing mower is similar to building a miniature vehicle.
You are aware that you will require certain tools to perform the assignment before beginning any work. The very first task is to gather enough bits to construct your lawnmower. Take apart your old mower, ask neighbors and friends if they have an older mower they no longer need or look through garage sales and scrap metal. You might also seek particular parts on websites. Finding the parts is frequently the most difficult step; but, once you have everything you need, the rest of the process is rather simple.
How To Make a Racing Lawn Mower: Step Wise Explanation
After a detailed analysis of many available methods, we've grabbed the one that will avoid creating a mess and will be easily implemented. Follow all the steps mentioned below properly to prevent any possible error. The following are primary components you'll require include the engine, the set-up component, hydraulic brake system, centrifugal clutch, a steering wheel, chain, front and rear axle, transmission, fuel tank, front and rear wheels, electrical equipment, goggles, hand gloves, and tire sealant.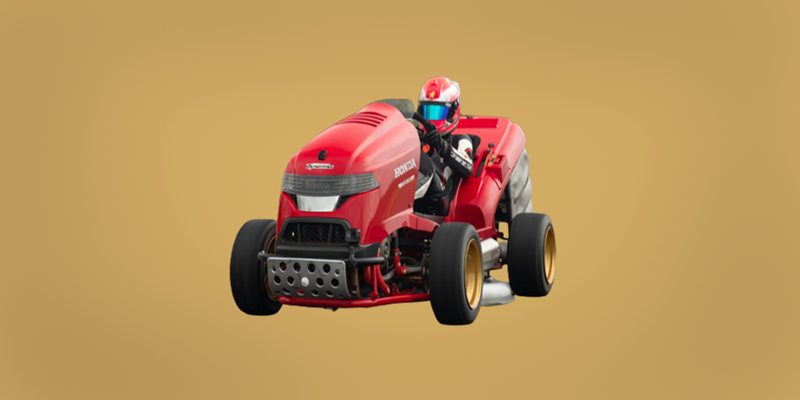 Step #1:

Putting the Frame Together:
We'll start by constructing a frame. Lawnmowers usually come with a built-in stand. However, when building a lawnmower for racing, the structure must be tougher to withstand the high-speed stress. To be able to sit on your mower and operate it, typically at a high pace, you'll need to build a huge, heavy frame. The lawn mower's current structure will not support the weight. So, to strengthen the current frame, add more metal pieces to it.
You may accomplish this by altering the current frame and welding it together, as well as adding a seat and strengthening it with scrap metal. Because racing will take place on dirt roads and your lawnmower has no suspension, it's also vital to maintain the frame. The form of the structure is mostly determined by the type of wheels you intend to utilize.
Step #2:

System Of Steering:
The next phase is to design a fantastic steering system; remember, if you want to win, you'll need to be able to steer precisely even at high speeds. Create a direct steering system, which will make driving easier for you. One must install the internal components.
Step #3:

Install The Transmission With The Mower First:
The lawn mower's internal components must next be installed. The RAGB is a good place to start (transmission).
Step #4:

Installation Of The Brakes:
You should then set up the hydraulic brake. On the market, there are a variety of brakes to choose from. These will be mechanical or hydraulic. Hydraulic brakes are typically the best choice for racing lawnmowers. They are also easy to install since the brake lines may be routed to anywhere you want them.
Step #5:

Welding Of The Mower Deck:
The mower deck may then be welded to the frame, And you can stow the battery and electrical equipment beneath it. Weld the mower deck to the mower's mainframe now. Wait a few moments for the mower deck to adhere to the frame securely. Complete the electrical connection by installing the battery beneath the deck.
Step #6:

Installation Of The Puke Tank:
The next stage is to build a casing or tank to store the engine, sometimes known as a vomit tank in lawn mower racing. The lawnmower will no longer spew oil all over the track due to this.
Step #7:

Driving Seat For The Racing Mower:
The mower may be equipped with a seat for increased comfort and safety. You may utilize the same seat style as in schools but remove the legs. You could also make a seat out of scrap metal by welding it together. Cover your heart with chunks of foam from an old vehicle seat to make it comfier. It should be convenient for you to drive. People usually sit in classroom seats that do not have legs.
You may utilize any old automobile foam-wrapped seats if you are a comfort-oriented person. It's time to put the engine in once you've positioned the heart. Purchase the most recent version of the machine. In the engine shroud, place the engine. Connect the battery to the engine by placing it behind the seat. Connect the engine to the back wheel via a chain.
It will make it easier for you to maneuver the mower. You must adjust the height of your lawnmower blades because you can't obtain a well-trimmed garden without properly positioning the lawnmower. The adjusting procedure is not difficult at all. However, it would help to choose what size is best for you. It is simple to use if you can make the necessary adjustments. Making your mower look beautiful is the final step before putting everything back together.
Paint the frame in vibrant, attention-getting colors. After that, you may put it together and pick huge wheels with deep treads so that you can use them off-road. Please clean up the mower before painting it because it gets dirty after welding. The use of light and bright colors is usually recommended. Install the front wheel after painting to complete the mower's appearance. Make a thorough inspection of all connections and internal components.
Precautionary Measures:
When welding, use hand gloves and goggles.
Set up the engine and the batteries with care.
Complete all essential electrical processes according to the lawn mower's user handbook.
Following the steps outlined above will undoubtedly assist you in learning how to build a racing lawnmower. But bear in mind that you should not do this at home if you lack the necessary confidence and expertise. A poor electrical connection or a simple oversight might result in a major catastrophe. So only attempt it when you are sufficiently confident.
Also, don't forget to take necessary safety precautions. Your lawnmower is all set to mow the grass. But, before you go to the next phase, we advise that you test your lawnmower. Begin by cutting in a small area. Start the final step if it appears to be functioning properly. If it isn't working properly, try adjusting it again.
About Lawn Mowers:
As strange as it may sound, Lawnmower races have been around for a while and are steadily gaining popularity. Racing lawnmowers is exactly what it sounds like. While the races are mainly held on flat roads, some courses are muddy and filled with hazards. Because this sport may be somewhat strenuous, having a lawnmower that can keep up is essential. No lawnmower brand is made for this form of activity because it is about enhancing every detail of an existing lawnmower. Three major factors must be considered when having your hands on a lawnmower.
Stability Of The Device:
Stability is important in addition to speed. It is critical to have a lawnmower that does not lose control when cornering or making rapid moves, regardless of the terrain.
Acceleration of the Device:
The most crucial factor is, of course, acceleration; after all, this is a race. The easiest way to get started is to buy a gas-powered lawnmower to improve your lawnmower performance. They already have a lot of power since they are more conventional, unlike electric lawnmowers.
Easier Handling:
If this is your first time competing, start with a slower mower to get a feel for the sport. Driving a rapid lawnmower can be challenging and dangerous, especially on rough terrain.
Conclusion:
We all are forced by our human nature to like and get inspired by the next best thing instead of remaining satisfied with the things we own. Just like we update our house, furniture, car, and gadgets, you can now also upgrade your lawnmower. We hope this post contains enough information about
how to make a racing lawnmower
and has helped you reach the final decision, Keep visiting
Tools Cop
.