Blog
Are Corded Lawn Mowers Good: Yes or No
Unplugged vs. Plugged-In: Exploring the Pros and Cons of Corded Lawn Mowers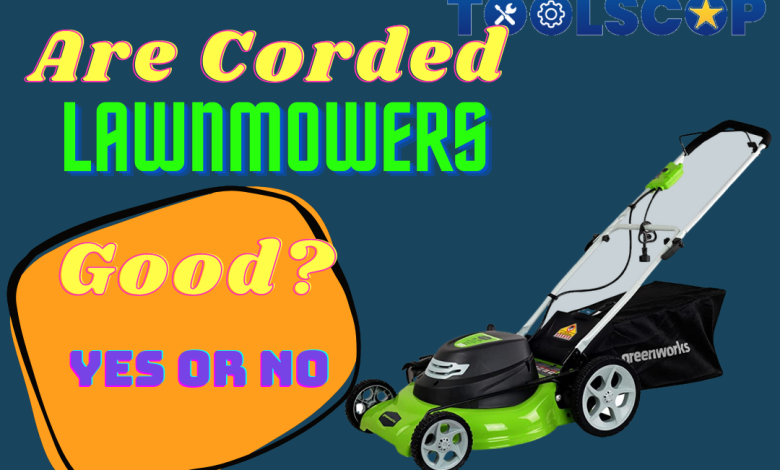 You have a beautiful lawn with lush green grass, eye-catching flower beds, and smooth pathways. All these are attractive and perfect looking.
But there is deep hard work hidden behind this vibrant scene. To maintain a cool green lawn, you need to take help from several tools, especially to keep the grass smooth and even, you need a good mower.
Are Corded Lawn Mowers Good: Yes or No?
The choice of whether or not to use a corded lawnmower will rely on several variables, including the size of your lawn, your budget, and your tastes.
The affordability of corded lawnmowers is one of their key benefits. For individuals on a tight budget, corded lawnmowers are a suitable choice because they are typically less expensive than battery-powered or gas-powered mowers. Also, they require less upkeep than gas-powered mowers, which can ultimately save you time and money.
Certainly, Yes they are good to buy, Corded lawnmowers can be beneficial depending on the circumstance and user desire. They are often more affordable than gas or battery-powered lawnmowers, making them a more cost-effective choice. Moreover, corded lawnmowers frequently weigh less than gas-powered mowers, making them simpler to store and maneuver.
As opposed to gas-powered mowers, corded lawnmowers provide a constant power supply, so they don't need to be recharged or refueled and don't emit any fumes or pollutants. As a result, consumers who are worried about their carbon footprint may find them to be a more environmentally beneficial option. Moreover, corded lawnmowers do have some restrictions, though. These can restrict the range and mobility of the mower because they need access to an electrical outlet. The cord may also provide tripping hazards and may tangle or cut itself accidentally while in use.
Final Verdict:
Nevertheless, for people with smaller lawns or who don't mind the drawbacks of a corded mower, corded lawnmowers might be an excellent option. However, a battery- or gas-powered mower might be a preferable option for people with larger lawns or who like more mobility and freedom of movement, Check out the More
Tools  Cop
on our
Website
.