Best
Lawn Mowers
Best Riding Lawn Mowers with Power Steering 2023
Steer Your Way to a Perfect Lawn: Top Riding Lawn Mowers with Power Steering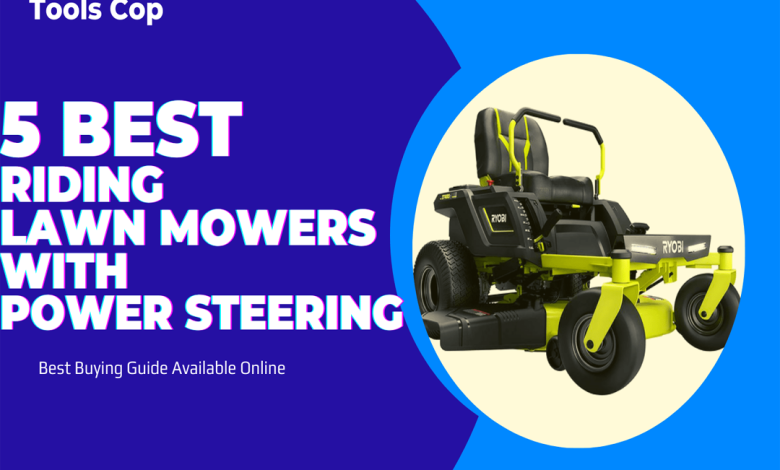 Over the past several years the advancement in lawn mowers is focusing a lot on user comfort, better maneuverability, less physical strain and to make the activity of cutting joyous. Moreover, the best riding lawn mowers with power steering often have bigger cutting decks, which can lead to a more even and regular cut, creating a healthier and more appealing grass. In addition to that, it can be enjoyable to operate the riding lawn mowers with power steering, especially for people who enjoy being outside and taking care of their yard.
Power steering lawn mowers were created by humans to make mowing the grass less strenuous and more relaxing. Lawn mowers had to be manually pushed or dragged before power steering mowers were created, which took a lot of physical work, especially when turning or navigating around obstacles. Because of this, cutting the lawn required a lot of effort and time.
Overall, the development of power steering lawn mowers has significantly improved the comfort, effectiveness, and enjoyment of the chore of mowing the grass.
We have deduced some of the best riding garden tractors with power steering, below are the names and specifications of each product:
1.     Ryobi 38 inches 100 Ah Battery Electric Rear Engine Riding Lawn Mower RY48111:
This battery-powered model from RYOBI is our top pick, which may surprise some people. In terms of power, the zero-emissions model easily matches gas mowers, cutting through thick grass with ease while demonstrating impressive maneuverability.
Furthermore, it is fume-free and virtually silent, producing only minor noise.

Ryobi 38 Inches Features
The RYOBI electric mower has a 38-inch deck and can run for two and a half hours on a single charge, allowing you to cut up to 2.5 acres in a single session.
The mower has cruise control, LED headlights, and USB charging.
It also features a two-blade deck with 12 different cutting heights.
Since that appears to lack belts, spark plugs, as well as filters, it's indeed simpler to look after than a long – established riding mower.
Moreover, it can easily accommodate yard sizes of 1-2 acres

You can own it in just $3200

.

Pros
Environmentally friendly
Quiet operation
Zero-turn capability
Low maintenance
Comfortable operation
High-capacity battery
Cons
Expensive
Limited range
Limited availability
2.     John Deere S120 42 in. 22 HP V-Twin Gas Hydrostatic Lawn Mower:
This lawn mower has a metal frame which is thoroughly soldered as well as 13 different blade clearances. The seat can be tailored to 10 various positions to guarantee your comfort, and the tractor's thirty second oil change system allows life a lot easier. The mower has an easy-to-read fuel gauge and power steering for effortless cutting the grass in large yards. This gas-powered lawn mower can also be used to spread grass seed, sweep your lawn, and even snow blow in the winter.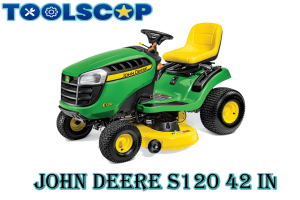 John Deere S120 42 in Features
The mower consists of 42in. of cutting width powered with gasoline which produces 22 horsepower.
It also consists of cruise control with an automatic transmission for effortless mowing large lawns.
Additionally, cup holder and compartment, mower deck wash port and comfortable high back seat is also provided.
It can store up to 2.4 gallons of gas with a forward moving speed of 5.5 mph and 3.2 mph in reverse.
This lawn mower has a turning radius of 18 inches.
You can own this best riding lawn mower with power steering in just $2700.

Pros
Powerful engine.
Easy to use.
Adjustable cutting height.
Easy maintenance.
Cons
Price.
Noisy.
Heavy
Limited features
3.     Husqvarna 54-Inch 24-HP V-Twin Riding Lawn Mower YTH24V54:
The Husqvarna YTH24V54 54-Inch 24-HP V-Twin Riding Lawn Mower is a high-performance lawn tractor that renders mowing large areas of grass effortlessly. It has a powerful 24-HP V-Twin Briggs & Stratton propeller, a hydrostatic transmission, and a 54-inch cutting deck, making it ideal for mowing substantial yards of up to 3 acres.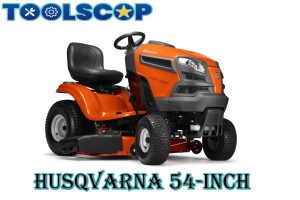 Check Price
Husqvarna 54-Inch Features
Here is our best riding lawn mower with power steering which not only cut the grass, but also produces enough power to carry heavy mowing jobs.
Total storage of the gasoline tank is 3 gallons.
Moreover, we have chosen this best riding lawn mower for you because it has a reinforced steel deck which quite strong and durable.
Furthermore, for extra comfort this mower comes with a high-back seat which enhances your comfort experience.
This lawn mower with power steering also has a very tight turning radius which helps you mow tight corners easily.

Pros
Good value.
Tight turning radius.
Wide cutting deck.
Hydrostatic transmission.
Cons
Accessory kits sold separately.
4.     Troy-Bilt Bronco 42 in. 19 HP Gas Riding Lawn Mower:
The Troy-Bilt Bronco 42-Inch gas riding lawn mower will probably outperform through steep terrain. It has an automatic gearbox that makes driving easy, as well as its 20-inch rear wheels offer additional superior traction on sloped terrain. The lawn tractor has a 42-inch deck with anti-scalp wheels to protect the turf, and the machine's 19 HP 544cc engine will trim the overgrown grass up to 1.5 acres easily and quickly.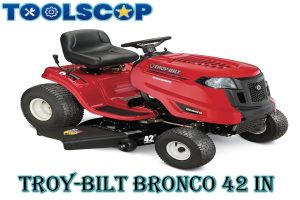 Check Price
Troy-Bilt Bronco 42 in Features
This riding lawn mower with power steering has a large chassis for extra leg room, as well as a semi back seat and rubber footpads for comfort.
The lawn tractor has a rear harness for hauling garden trolleys, sprayers and spreaders, and bagging and mowing accessories are purchased individually.
The total storage capacity of gasoline tank is 1.36 gallons.
This lawn tractor comes with cutting height of just 1.25 inches which is the only drawback of this product.
In addition, the deck is made up of steel which vanishes the drawback of cutting height and make it vulnerable over other products.

Pros
Reasonable price if we compare it with other lawn mowers.
Automatic transmission.
Excellent traction on hills.
A small turning radius.
Compatible with a wide range of accessories.
Cons
Not ideal for large lawns due to less fuel tank capacity.
Mid-back seat may not be comfortable for all the users.
Limited cutting heights.
5.     Cub Cadet 30 in. Electric Riding Lawn Mower:
The Cub Cadet 30 in. Lithium-Ion Rechargeable Battery Lawn Tractor is a quiet and environmentally sustainable alternative to traditional gas-powered lawn tractors. A 56-volt lithium-ion battery powers this lawn tractor, allowing it to mow up to 1 acre on a single charge. It has a 30-inch cutting deck, adjustable cutting height, and a high-back seat for comfort.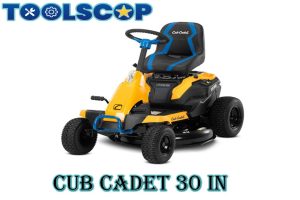 Check Price
Cub Cadet 30 in. Features
Let's move further to most interesting point of our product, according to the brand, it only takes up the space of two garbage cans.
Isn't it great to have lawn tractor which is maintenance free and compact enough to store it in a very small area.
Isn't it great to have a lawn tractor that requires no maintenance and can be stored in a small space? Of course! It is.

You can own this little puppet in just 2399$

.

Pros
Generous run time.
Simple to store.
Charges rapidly.
Included is a mulching kit.
Built-in USB ports.
Final Verdict:
The products that are listed above are found by looking in the best category of the lawn tractors. For example, Cub Cadet 30 inches is the best small lawn mower. Furthermore, Troy-bilt bronco 42 inches is best for hill. Thirdly, YTH24V54 (Husqvarna 54-Inch) is known to be best for its accessory attachment capability. Just like that, John Deere S120 42 inches is all rounder and known to be the best riding lawn mower with power steering as well as best lawn tractor. Another excellent product also found to be best overall is the one ranking first in the text and it is commonly called as Ryobi 38in. Keep visiting Tools Cop for more reviews.